Sonshine Kissed Under The Mistletoe

"Holly"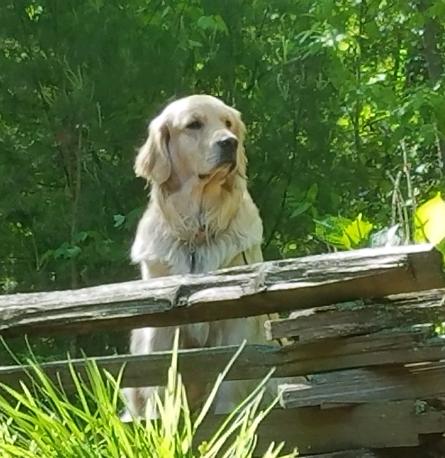 We would like to introduce you to Holly. She is a daughter of our Faith and Banjo, so it is no surprise that she is very sweet and loving. She is such a treasure! Holly lives with our dear friends, Diana and Claude. She has two siblings: another Golden and a cat who thinks she is a dog. They have lots of land to run, play, and explore that surrounds their lovely home. Diana often takes the two dogs dock diving as well. She also brings them to, or gets visits from, two other Sonshine Goldens that Diana's mother owns. What fun they all have together!
Below is a picture of Holly who is in the early stages of pregnancy with Humphrey's puppies. She has such a beautiful build with lots of gorgeous coat! Because this was such a nice picture of her,
I just had to share it on her page.