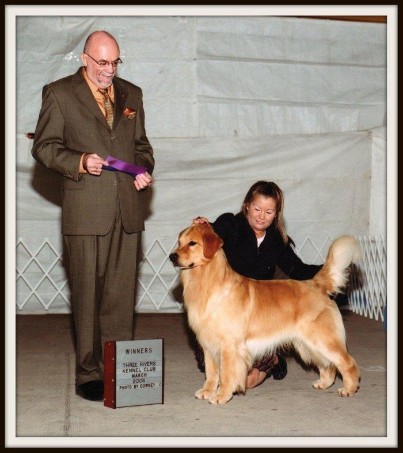 Welcome to Sonshine Golden Retrievers!


Sonshine Golden Retrievers is a small kennel that raises quality AKC Golden Retriever puppies in the quaint backroads of Northern Indiana. We are only about a one half hour drive south from the Michigan border, a two hour drive from Chicago, Illinois, a one and a half hour drive from Fort Wayne, Indiana, and a two and a half hour drive from Indianapolis, Indiana. Many people come from Ohio, Kentucky, and Tennessee, and occasionally from a few other states as well. It is here that we offer outstanding Golden Retriever puppies for sale.
We understand that the puppy we sell you will become a member of your family. Therefore, it is our goal to raise quality Golden Retriever puppies that exemplify the standard of the breed. This means they are not only beautiful and come from strong champion foundations, but they also have great health and outstanding temperaments. All our dogs are very smart, easy to train, and desire to please. Many have gone on to be therapy dogs. One therapy dog was reported to have most likely saved the life of her owner who is hypoglycemic. Kudos to the trainer, but a great example to their trainability. We have all health tests completed on our dogs for hip and elbow dysplasia (OFA), their eyes are tested and OFA cleared by a certified ophthalmologist, and their hearts have been tested and OFA cleared by a board certified cardiologist (SAS). We also go through the DNA testing needed to assure your puppy will not be able to come down with ichthyosis, GR1 PRA, GR2 PRA, or Degenerative Myelopathy. All our puppies come with a genetic health guarantee as well. We can offer this, not only because we have our parent dogs tested, but also because they come from such genetically sound, outstanding lines that are also tested! This means our dogs have generations of health clearances. Each generation of clearances raises the chances of your puppy being all the more genetically sound. Again, this is all done to assure a firm healthy foundation for your puppy in the standard of the breed.
We have searched high and low and worked very hard to have the very best we can offer so that we can help affirm that your puppy has all the characteristics that made Golden Retrievers one of the top loved breeds of our time. It is very important to us that your new baby has the best start in life as possible!