I absolutely LOVE watching my puppies grow up and encourage you to keep me updated! Every time I receive a new photo, I feel so blessed to have played a part in the joy that surrounds each puppy. Although I can only display a limited number of photos on my website, I keep every photo and treasure them all!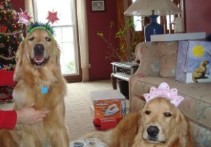 Duffy (left) and Mimi (right) celebrating their 1st birthday together. They are brother/sister and belong to close neighbors.
Duffy after the 2010 snowstorm.
__________________________________________________________
Video of Sophie playing with her toys as a young puppy. To the right is a picture of her as an older puppy.

_________________________________________________________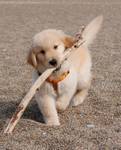 Winston playing in his yard.
Mr. Ripley enjoying the beach!
__________________________________________________________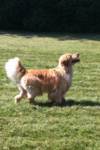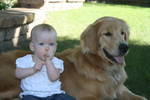 Mini enjoying a good chase.
This is what it's all about... love and companionship.
_________________________________________________________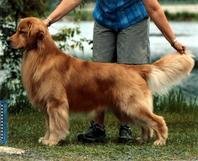 Sonshine Over Clitheroe - "Denver"
Denver came to us from Judy Keller of Sonshine Goldens in Indiana. He has matured into a very handsome guy and loves to tackle any task we give him. He earned his WC (Working Certificate) and completed his CH (Championship) before his 2nd birthday. He has a very sweet disposition, clean balanced movement and is very bright and athletic. We expect many more titles in this boy's future. Denver has his OFA Hips, Elbows, Cardiac, Thyroid and CERF Eye clearances. Denver completed his ASCA CD title at our Feb. 2012 Trials and his CKC CD & RN at our March Trials. Denver also added a CGN to his list of accomplishments. We decided to try our skills in the USA and came home with new CD and RN titles. Headed back into the Rally ring and earned Denver's RE (Rally Excellent). What a finish for 2012! We have our JH (Junior Hunt title) in 2013 and finished #2 Rally Obedience Golden in Canada also completing an RAE title! 2014 has finished off a second RAE and obtained a CCA title while at our Canadian Nationals. Denver is #4 Golden in Rally Obedience for Canada and his son Dillon is #9! Wow What a Year!!! Denver started out 2015 with a bang getting 2 legs towards his CDX and passing his St. John Ambulance Therapy Dog Certification. His is now doing weekly visits bringing joy to many peoples lives and putting big smiles on their faces! Sept. Trials were a great success with Denver completing his CDX and achieving a Hit In Trial in the process. Our sweet, clever boy just keeps getting better!
_________________________________________________________
"This is my new baby. Murphee Journey. He's a 10 week old pure bred golden retriever puppy. we drove all the way to Indiana to pick him up. He has been the sweetest most loving and playful puppy ever. everyone we see tells us he should be a calendar puppy, or commercial puppy. we agree totally, but living in West Virginia, it makes that option almost impossible. he also has the most wonderful personality. very loving and social with everyone! we love our dear murphee to death =] and he's a very smart dog.and also, if you are interested in casting him in a commercial, or anything of the sort. message me back. thank you! and if ur wondering, no he's not for sale. hahaha. he's my baby =] and yes he DOES look like Mick Jonas's Elvis as a puppy =]lol"
"This is a follow up video of my first video I uploaded of Murphee. He's growing very fast so I try to catch him on camera as much as possible =] hope everyone likes it!! OH! and the song is 'Wak up Your heart' by Days Difference! check them out at www.daysdifference.com"
"Many of you saw Murphee's original puppy video, and asked to see him all grown up! Here are a few clips of his young life so far! The song is called 'Home' by Action Item!"