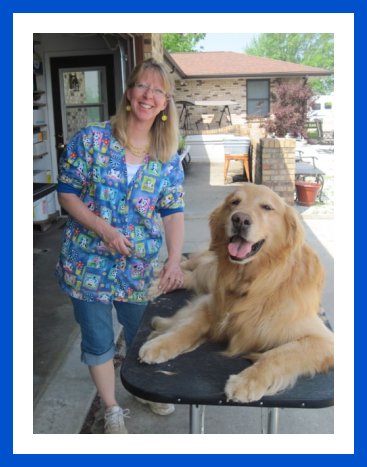 I'm Judy Keller, and this is my story!
I've loved dogs all my life.... you could say I was obsessed with them! As a young child, I was raised with a German Shepherd named Valiant. I loved to watch my dad train him, and I'd go on hikes with him. For show and tell, I brought him to class with me and went through all of his obedience work using hand signals and cues. My parents were amazed that he would listen so well to a five year old.
In high school, my neighbors down the street owned a hyper Irish Setter named Rhett, and he lived in the backyard on a chain. I felt sorry for him, so they agreed to let me take up his training. I worked with him to the point where he could walk alongside me without a leash through town, and we would play our favorite game of hide and seek in the local park. As a result, Rhett became a happy, loving house dog.
I was also known as the girl who would take in any stray dog I could find. I didn't want them to go to the shelter, so I was devoted to taking them in, cleaning them up, and placing them in a loving home.
Later on in college, I fell in love with the Golden Retriever breed when a friend of mine allowed me to take his Golden Retriever, Shannon, out on hikes in River Falls, Wisconsin. We would spend hours together almost every weekend.
My first two dogs, Zach and Yeller, were rescue dogs, and I adopted them around the same time. One had a lot of skin allergies and the other was blind from birth. Despite this, I loved them dearly!
After they passed, I decided I wanted to get a Golden Retriever like Shannon. At that time, I was very frustrated with the quality of Golden Retrievers in my area. They didn't have either the looks, quality, or temperament that I was looking for in my dog. I decided I would investigate what it would take to be a breeder of the quality Golden Retriever I was looking for. It took me three years of research from that moment to the day I brought home my first male Golden Retriever, Basil. However, in order to find an ideal female, I needed to first raise then genetically test and, for one reason or another, re-home five females before finally finding a female with the foundation in health, looks, and temperament that I had been looking for.


Now here I am, 20 years later and still madly in love with raising Golden Retriever puppies and working with our parent dogs. I am a full-time mom of five children who were primarily home schooled that have somehow grown up, and I am now blessed with two granddaughters! Of course, they also adore the puppies! However, I am still a full-time mom for my Goldens as well, so I do not work outside of the home. Taking care of my dogs is built into my daily routine and is a sincere commitment. When our puppies are here with us, they are raised in my home with me (and my family that comes and goes since they, thankfully, live nearby), and those pups become my life. My goal is to not only preserve but also enhance the quality of my Golden Retrievers and their puppies.
I am also very grateful for my connections with other Golden Retriever breeders who have the same goal as I do and who are willing to unite in that goal.
I hope my Golden Retrievers will bring you the same happiness that they bring me!
I am a member of the Golden Retriever Club of America.


The only thing missing from the below video are Goldens and their puppies. :) It is a song from the heart. I am so thankful for all that has been given me.