Sonshine Summer Breeze
"Jasmine"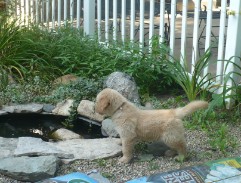 I would like to introduce you to Sonshine's Summer Breeze, "Jasmine." In the picture to your left she is just a 8 weeks old discovering fish in our little pond. In the picture to your right she is a 6 month old pup.
______________________________________________________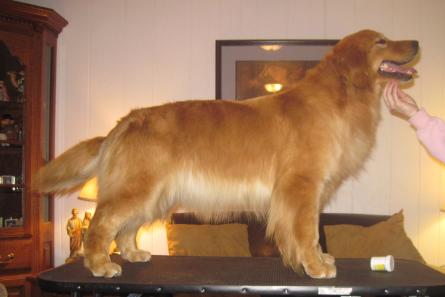 Jasmine is from our Arwen and Shane, and is the ideal combination of the two. Not only is she gorgous, but also very loving, intelligent, and self confident. She desires to please ... whether it is on an adventurous walk or a snuggle at home. She is just how a Golden should be! Jasmine measures 22 inches in height at the shoulders and has that gorgeous build that is expected from an Arwen and Shane pup. Above and below are updated pictures of her at 2.5 years of age. The picture below makes her appear darker than she truely is. She is more on the dark side of medium gold than red in color. You can see that best by the picture above.

Here is the song that inspired her name: