Sonshine Shall We Dance
"Mitzi"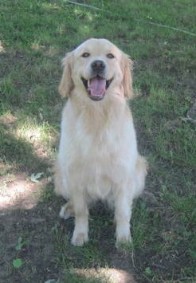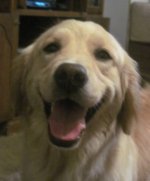 I just couldn't resist putting these two pictures on Mitzi's page because her personality shines through them. As you can see by her smile, she is just one super sweet, happy Golden with a beautiful broad head!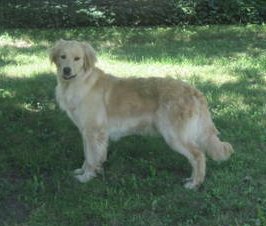 In this picture you can see just how gorgeous she is! Coming from a strong bloodline of champions, Mitzi is a true gem. With self confidence she looks at the world through playful eyes. She is a smart, mild mannered, and gentle girl who likes to follow me around with adoring eyes asking me "where do you want to go and what do you want to do next?" ; she is a perfect Golden!
She is on the taller end of the breed standard being 22.5 inches tall. It is difficult to tell from the pictures, but she, also has the very nice thick bone that I like.
To view her preliminary hip clearances, please contact me, and I will gladly email them to you. I am very pleased, for they were rated as "excellent"!
VIEW MITZI'S PEDIGREE AND HEALTH CLEARANCES HERE: