Golden Retriever Puppies for sale
___________________________
Nursery 1
Rosie's puppies are here!Rosie had 6 beautiful puppies born on
May 12, 2017.PUPPIES WILL BE AVAILABLE TO GO HOME AT
7 WEEKS OF AGE ON THE WEEKEND OF
June 30, 2017.
Rosie had 1 female and 5 male puppies.
I'm sorry. All these puppies are spoken for.
We have one more litter planned for this year. Please see our Planned Litters page for information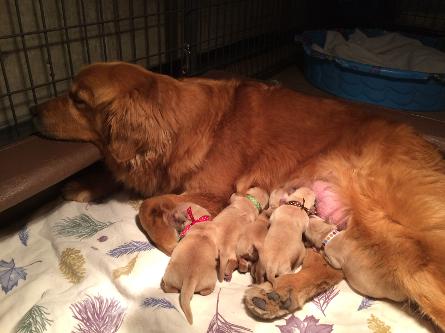 Above you can see Rosie
and
her
newborn
puppies.
E
ach puppy has
their own color collar so that we can monitor the growth and personalities of each puppy as they mature. Because we handle and play with them so much, we do get to know them individually and can "most
usually
" tell them apart. However, because all of our puppies are so
similar
to
each other
, we feel better knowing with absolute certainty "who is who" by having them wear these collars. It is also a fun way for you to get to track the puppy as he/she grows because I email weekly pictures of them to those who have deposits from now until they go home
. Below you can see a picture of the puppies. The female pup has the purple collar.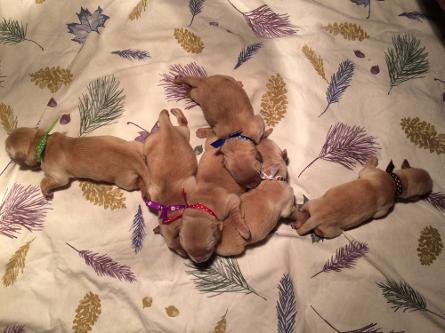 Please see our "Breeding Philosophy" page to see how we raise our puppies and what they go home with.
I request a non-refundable deposit of $200.00 to reserve a puppy. Upon receiving a deposit, I will email weekly pictures of the puppies so you can watch them grow!
The puppies are picked by the order the deposits are placed. You are not expected to pick your puppy out until the day you come to take him or her home with you.
If you are interested in a future puppy, please let me know a little about your lifestyle, family, and dog experience so that we can properly assist you with your new puppy.
I do, of course, always reserve the right to keep my pick of the litter in order to continue/improve my breeding program. I also reserve the right to refund a deposit if I decide placement of a puppy in your situation is not in the best interest of the puppy.
Thank you for your interest in
Sonshine Golden Retrievers
of Indiana!