Arwen and Traveller Golden Retriever Puppies for Sale

Arwen's puppies have arrived!!
This is our
CHRISTMAS LITTER !!
Arwen's puppies were born on October 15th of 2011. This would make them available to go home the weekend of December 9-11 when they turn 8 weeks old. ** (Please read below for more details on other options available to you for me to hold your puppy for you for Christmas.)
SHE HAD 2 GIRLS AND 8 BOYS.
I am no longer taking deposits for this litter.
Please stay tuned to my "Planned Litter" page for future litters.
These puppies will be absolutely stunning!
THIS IS THE TIME TO PLAN WELL AHEAD FOR AN UNFORGETTABLE CHRISTMAS!
YOU CAN VIEW A PICTURE OF THE LITTER AS NEWBORNS AND AT ONE WEEK OLD BELOW.
CLICK HERE TO SEE HOW THEY LOOK NOW... THESE ARE THEIR CHRISTMAS PICTURES TAKEN BEFORE GOING HOME.
TO SEE PICTURES OF TRAVELLER'S LAST LITTER AT ALMOST EIGHT WEEKS OF AGE, PLEASE CLICK HERE.
(This will give you somewhat of an idea of what these puppies will look like at eight weeks of age.)
Please make sure this puppy will not be a total surprise for the owner and caretaker of the puppy. Puppies are a lot of responsibility and much thought has to be put into what it will take to raise a puppy by the one responsible for his/her needs. However, a puppy is a wonderful present and surprise for children and for those who have already thought through the process that a puppy would be a perfect addition to the household.
**With these puppies being able to go home so close to Christmas, you can choose to pick up your puppy as usual at 8 weeks of age to get started with your puppy before Christmas arrives (October 9-12), or I will be happy to keep your puppy awhile longer for you to surprise your family on or near Christmas Day. If Christmas is too busy, I can take a picture of him or her wearing a pretty red bow for you to put under or hang on the tree and pick up shortly thereafter. I do this because I want your new puppy arriving near Christmas-time to be a pleasurable experience for both you and your puppy.
__________________________________________________________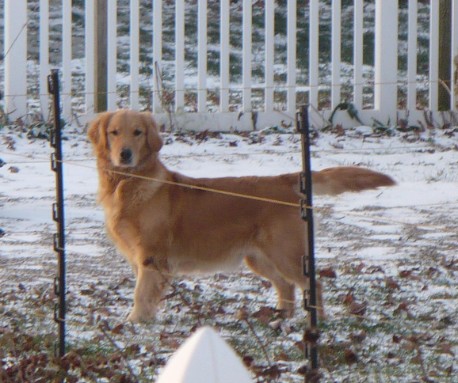 Arwen is the Mom of this litter. Click here to view her page.

______________________________________________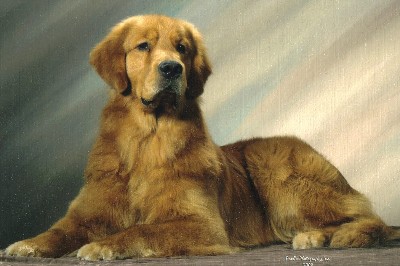 Traveller is the Dad of this litter. Click here to view his page.
__________________________________________________________
Above is Arwen with her newborn puppies. Please excuse the lighting . The heat lamp used to keep the temperature around 75 degrees throws off the lighting.
We place color-coded collars on our puppies at birth so we can properly monitor each individual puppy's weight and well-being. (This picture was taken prior to putting their individual collars on.) We can also watch each puppy's personality develop without confusing which pup is which. Because we spend so much time with them, as time goes on we can usually start to tell our puppies apart. However, because they often are so much alike, sometimes it is still hard to tell. Therefore, it helps take any question out of the equation.
The colored collars also help you follow along each puppy's progress as I post new pictures each week.
______________________________________________
Below are all the kids on October 22, 2011. In the first set of pictures the females are on your left and the males are on your right. In the second set, I show the puppies at birth and then at a week old in their container that I put them in when I change their bedding. Their color shows better in these pictures. See how much they have grown already!
Most of these puppies will be medium gold in color with a lighter undercoat as they mature. There might be two males that may be a deeper gold like their daddy. (This is a rich gold color, but not red.) They will all have an awesome blockier build with lots of bone.
STAY TUNED FOR WEEKLY PHOTOS OF THE PUPPIES TO WATCH THEM GROW!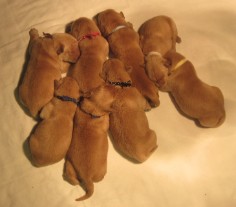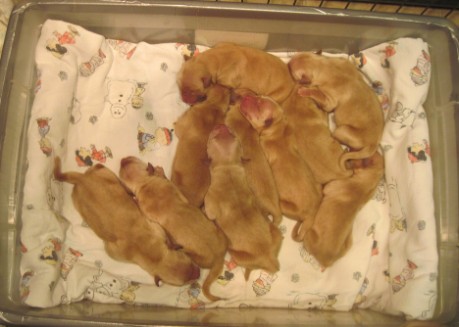 Above are all the kids as newborns, and below they are all there at one week of age.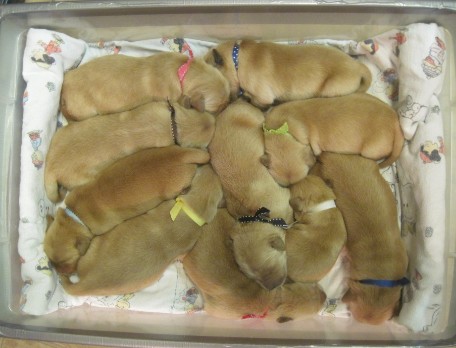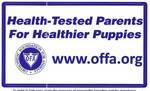 Please contact us regarding any of our future litters located on our "Planned litters" page.
Due to the high interest in our puppies, I am now requesting a non-refundable deposit of $200.00 to reserve a puppy for you with litters planned in the near future. I will, however, refund the deposit if I cannot get you the sex of puppy that you put a deposit on should you place the deposit prior to the birthing of the litter. Those that place a deposit will personally be kept up to date on the progress of the forthcoming litter, i.e., I'll let you know when they have been bred, when the pups are due, when they are born, etc. I will post weekly pictures of the puppies here on my website so you can watch them grow! The puppies are picked by the order the deposits are placed.
If you are interested in a puppy please let me know a little about your lifestyle, family, and dog experience so that we can properly assist you with your new puppy.
I do, of course, always reserve the right to keep my pick of the litter in order to continue/improve my breeding program. I also reserve the right to refund a deposit if I decide placement of a puppy in your situation is not in the best interest of the puppy.


Thank you for your interest in
Sonshine Golden Retrievers
of Indiana!